Dry Cleaning Accounts
Clockwork Cleaners offers reduced rates to our clients who need their garments cleaned in bulk quantities including FREE pick-up & delivery. We offer concierge-style service to all of our dry cleaning accounts. Clockwork Cleaners can come to you, pick up your laundry and deliver a beautiful finished product, all at the lowest rates in Orange County.
Our Low Rates Get Even Lower with High Volume Accounts!
Our already low price of $3.75 become reduced  depending on the volume of the clothes you get cleaned with Clockwork Cleaners. We never compromise our quality and eco-friendly practices at any step in our dry cleaning process. We can get your garments back to you looking like the first day you wore them.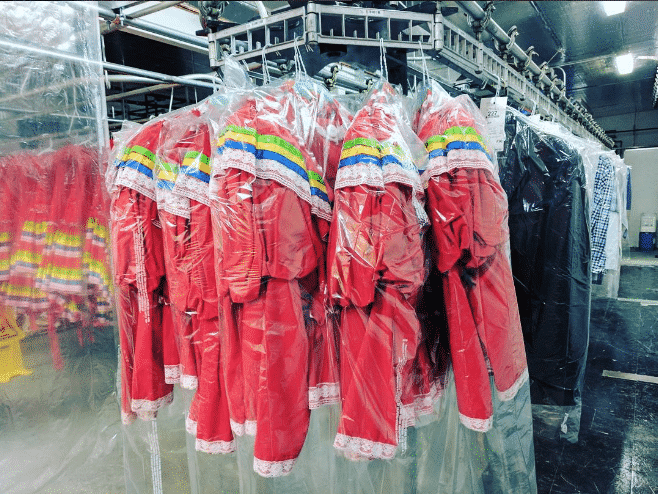 We Service the Following Notable Dry Cleaning Accounts Already:
John Wayne Airport Police Department
Santa Ana Police Cadet School
Santa Ana Unified School District
Burbank Police School
Relampago Del Cielo
Saddleback Chapel
Rental Boutique (costume rental)
A&A Curtain Cleaning
GMC Automotive
Orange County Theater of the Arts
Our concierge account service is the most economical and convenient way to get your laundry done in bulk quantities. Whatever business you run, it's important that you keep your fleet in clean, crisp uniforms. With other dry cleaning services, that can come along with a tremendous amount of overhead, and many places won't even lower their prices for larger quantities. They'll tack on hidden fees for basic services like starch and creasing.
Clockwork Cleaners is your straightforward, shoot-from-the-hip dry cleaning service that always looks to transfer the savings we experience from thrifty business practices on to our clients. We give you reliable, affordable, fast and friendly dry cleaning service that will always leave you looking fresh and clean. Contact Clockwork Cleaners for more information today, we're located near the historic Orange Circle, right off the 55 freeway on Tustin St. We'll make your laundry great again!